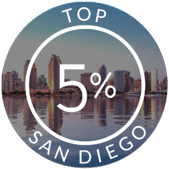 If your agent shared this logo, he or she is in the top 5% of all San Diego County real estate agent professionals!
When it comes to the biggest investment of your life, you expect the highest level of professionalism, knowledge, and experience from the person who is managing it for you.
The R.E.A.L. Award is formal recognition from the Pacific Southwest Association of REALTORS® (PSAR), of agent sales production. The R.E.A.L. Award stands for REAL ESTATE ACHIEVEMENTS & LEADERSHIP. PSAR is very excited to publicly honor San Diego County's top producing agents, brokers, and teams who have exhibited excellence through their sales achievement and industry leadership.
To put this achievement in perspective, consider that in San Diego County, there are over 20,100 active agents. To be honored with this award is indeed a testimony to the dedication, trust and work ethic of this REALTOR®.
Your agent's name is on this list, thank you for continuing to support them and thereby his or her real estate career. This award is not possible without loyal clients like you!